Glucomate Press Kit
Welcome. You've come to the right place.
Download Press Kit (41.6 MB)
🛍️ Black Friday Sale 2023
50% off first year subscription!
New users can save over 50% 🔥 on the first year of their subscription. $14.99USD down to $6.99 (similar in other currencies).
On sale until 28th November 2023.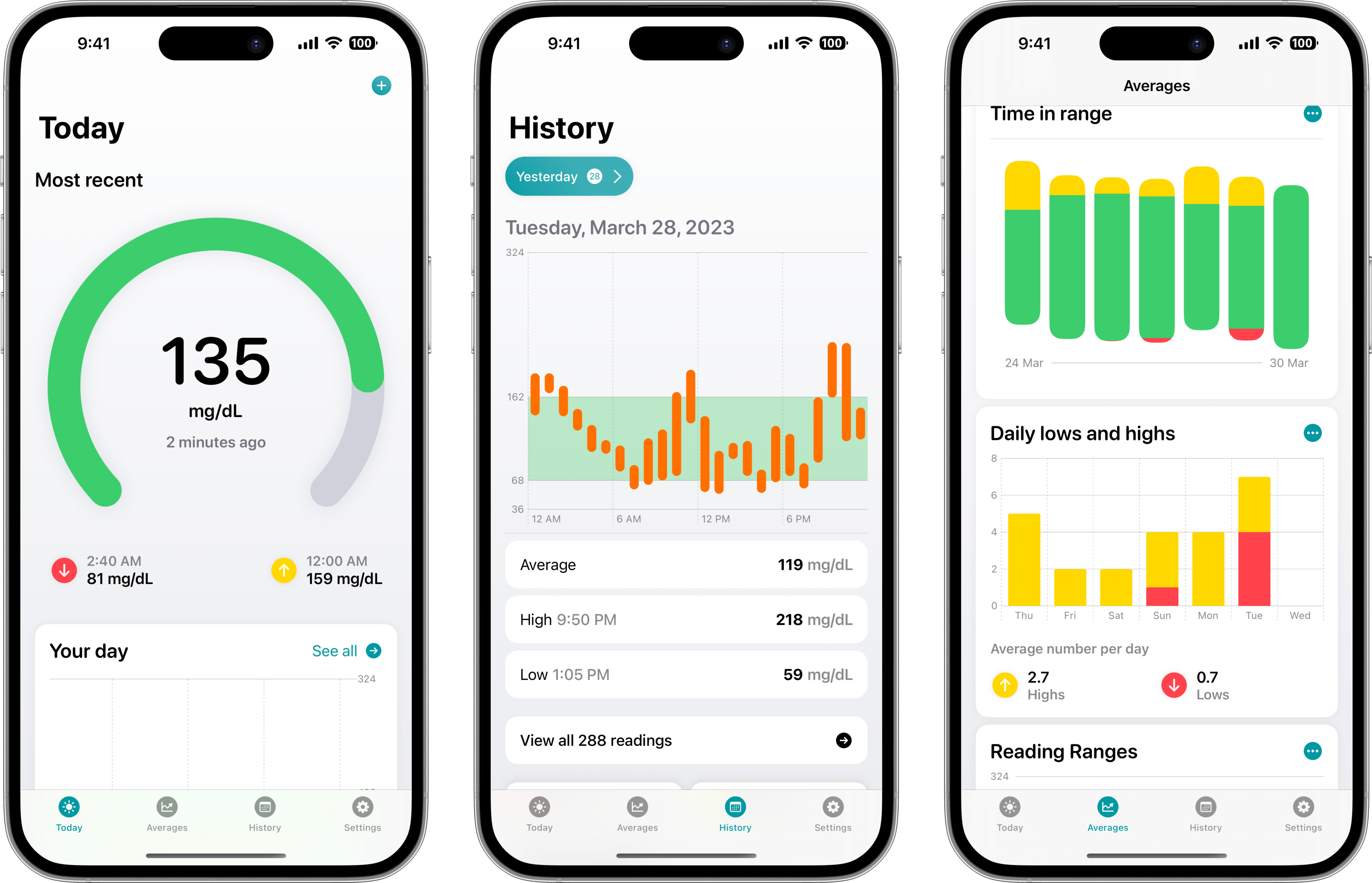 App Name
Glucomate
Developer
Harbour City Software Pty Ltd
Developer Location
Sydney, Australia
Key contact
Zach Simone (App/design/code)
App Store URL
Platform Requirements
iOS 16.4 and higher
watchOS 9.4 and higher
Pricing (in USD):
Subscription: $1.99/month or $14.99/year
Lifetime unlock: $59.99
Pricing (in EUR):
Subscription: €1.99/month or €17.99/year
Lifetime unlock: €69.99
Pricing (in AUD):
Subscription: $2.99/month or $22.99/year
Lifetime unlock: $99.99
Check the local App Store for pricing in other currencies.
Language Localisation
English (AU, UK, US), Spanish, German, Italian, Dutch, Japanese, Chinese (Simplified and Traditional), Hindi, Indonesian, Korean, Polish, Portuguese, Brazilian Portuguese, Tamil, Thai, and Swedish.
App Description
Glucomate is the perfect companion app for people who record, track, and monitor their blood glucose on iPhone, iPad, or Apple Watch. It's for people who have their readings automatically saved to HealthKit, or otherwise want to keep a record manually. With nice charts, a detailed history view, sleep and workout comparisons, and Apple Watch app for quick-entry - it's the go-to companion for someone wanting to stay on top of their blood glucose.

Though not required, Glucomate works nicely with CGM or other blood glucose-monitoring devices that send glucose readings to HealthKit. Not just for people with diabetes, either. Glucomate is for anyone who records their blood glucose - no matter how frequently!

Glucomate offers a completely free, fully-featured Demo Mode. It lets you get a feel for the app before subscribing, or allows you to try out the app even if you don't record your own blood glucose to HealthKit.

Main features:
• Quick entry of blood glucose data into HealthKit on iPhone, iPad, and Apple Watch
• An interactive widget for an even quicker way of entering a new blood glucose reading
• Complications on Apple Watch, widgets on iOS (may require your device to be unlocked for updates to come through)
• A summary of the current day, highlighting the most recent glucose reading, along with information about highs and lows, time in range
• Look at glucose readings during workouts or your sleep, and compare your waking glucose across days
• Analysis features with information and trends from the last 7, 14, 30, or 90-days
• History view with averages, high/low information, time in range, and ability to view all readings for a given day, along with readings during any sleep or workout from that day
• Customisable charts with the ability to show/hide and reorder to create a custom app experience
• A full-featured Demo Mode allowing you to get a feel for the app without having real blood glucose readings in HealthKit
• Support for mmol/L and mg/dL units.

About the developer
Zach has been building apps for the iPhone for almost 10 years, and has always been passionate about building good-looking apps that are easy to use and solve a need for the people using them.

He's also had type-1 diabetes for over 20 years, and has an interest (totally not an obsession...) in knowing what his glucose levels are doing. The idea for Glucomate came almost 6 years ago when he started using a continuous glucose monitor (CGM) which records glucose levels every 5 minutes.

It is often difficult to view detailed history or any trends identified by the data. The idea for Glucomate was born upon realising that some of these devices output the glucose data to HealthKit, and that the data could be taken and visualised in a nice way that helps make sense of it. This means a lot of thought and consideration has gone into Glucomate, especially around what kind of information is most relevant for people who regularly monitor their blood glucose.